Making a great movie depends on so many different aspects of filmmaking. Not only do you need a good script, but you also need the right director, decent cinematography, costume design, and of course – the perfect cast. Every actor has their strengths and weaknesses, and let's just say that filmmakers haven't always done the greatest job assessing them. So without further ado, these are the worst casting choices that viewers just couldn't overlook.
Jennifer Lawrence – Joy
It's a known fact that actresses above the age of 30 have more trouble getting parts than younger actresses. This leads to some weird casting choices, like that of Jennifer Lawrence in Joy.
The film tells the true story of Joy Mangano, a beaten down 34-year-old single mother who turned her life around by inventing a self-wringing mop. We also see Joy in her 40s in the movie, so casting an actress in her 30s would've made a lot more sense than 25-year-old Jennifer Lawrence, who does not look like a beaten-down single mom.
Rihanna – Battleship
We're not going to sit here and tell you that Rihanna ruined the movie Battleship – it would have been just as bad without her. The New York Post actually said the film "makes Top Gun look like the work of Orson Welles."
But the popular singer's acting debut didn't exactly demonstrate great acting chops – she even got a Golden Raspberry for Worst Supporting Actress. At least she can rest easy knowing her singing abilities are undoubtedly magnificent.
Kate Bosworth – Superman Returns
Casting Kate Bosworth as Lois Lane was a pretty questionable choice, and not just because of her performance – but because of her age. She was only 22-years-old when they began filming, which would have been fine if Superman had just met her then.
But Superman Returns is set five years after he leaves earth, which means she would have been 17 years old when he met her (and most likely impregnated her). We hardly think she would've become a big time journalist by the age of 17.
Topher Grace – Spider-Man 3
While not nearly as good as the newer Spider-Man movies, Sam Raimi's Spider-Man will always hold a special place in our hearts. Some people thought casting Tobey Maguire as the superhero was a bad choice.
But it was an even stranger choice to cast Topher Grace, who's better known for his role of the meek Eric Forman from That '70s Show, as Venom. According to the comics, the villain should be a much bigger guy (let's say, like Tom Hardy). Having Maguire and Grace face each other in the film was embarrassing, to say the least.
Keanu Reeves – Dracula
Keanu Reeves certainly had his ups and downs when it comes to acting. He's been great in some movies, while in others he made us wonder if he was the best cast for the role.
But his performance as Jonathan Harker in Bram Stoker's Dracula was probably one of his worst. Not only was it a bit over-the-top, but it was also completely overshadowed by a terrible attempt at a British accent. Director Francis Ford Coppola actually said Keanu wanted it to be perfect, but tried so hard it "came off as stilted."
Colin Farrell – Alexander
Colin Farrell has some pretty great performances in his repertoire, but the one he gave for the role of Alexander isn't one of them. His Alexander just didn't seem like the type of greedy ruler who would eventually go down in history books as "Alexander the Great".
The actor also had trouble losing his Irish accent, which forced other members of the cast speak with an Irish accent as well. And the hair? Even Farrell himself made fun of it, saying, "That was my Doris Day look."
Jared Leto – Suicide Squad
Suicide Squad had a lot of hype and a lot of potential, but it turned out pretty messy. Some say it was the fact that it had too many characters cramped into one film without previous introduction (take a cue from Marvel, DC guys).
But it was one performance in particular that attracted negative attention from fans – Jared Leto as the Joker. While his performance wasn't bad, many felt that he just failed to capture the underlying darkness of the iconic villain, and instead hid behind psychotic mannerisms that only scratched the surface.
Jesse Eisenberg – Batman v Superman: Dawn of Justice
Batman v Superman's Lex Luthor was just all over the place – first he wants to kill Superman, then he wants Superman to kill Batman, then he just wants to play God so the movie could have a Doomsday scenario.
But most of all, casting Jesse Eisenberg for the role of the famous villain was just wrong. The actor, who's done some pretty great work in other films, delivered an overly theatrical performance that did injustice to the role. And to think Bryan Cranston could have played him instead!
Emilia Clarke – Terminator Genisys
Emilia Clarke isn't only a good actress, she also seems like an awesome person in real life. We also love her as Daenerys Targaryen in Game of Thrones, but casting her as Sarah Connor in Terminator Genysis probably wasn't the best choice.
To be fair, no one could quite measure up to Linda Hamilton's performance as Sarah Connor in Terminators 1 and 2. Genysis didn't live up to the hype, and despite putting in the effort, Clarke couldn't lift it up.
Ashton Kutcher – Jobs
Some comedic actors manage to make the transition to more serious roles, but not everyone succeed in getting audiences to take them seriously. So casting Ashton Kutcher as Apple founder Steve Jobs in the biopic seemed laughable to many of the viewers.
Not only is he still largely recognized as That '70s Show's Kelso, but he also had other ditzy roles under his belt, like in Dude, Where's My Car. You can't really go from that to Steve Jobs. Michael Fassbender, however, did a much better job in the 2015 biopic, Steve Jobs.
Cameron Diaz – Gangs of New York
Martin Scorsese's Gangs of New York is a pretty great film, with some strong performances by Daniel Day Lewis and Leonardo DiCaprio. Cameron Diaz, who usually doesn't go for the dramatic roles, stands out like a sore thumb.
Not only is her Irish accent not very good, but her performance doesn't measure up to her fellow cast members' one bit. Her character, of a pickpocket named Jenny Everdeane, becomes romantically involved with Leonardo DiCaprio – and their scenes are the weakest in the film.
Angelina Jolie – Alexander
If it weren't bad enough that Colin Farrell was cast to play Alexander, they gave Angelina Jolie the part of his mother. This raised eyebrows from the very beginning. She certainly doesn't look old enough to be his mother, and they didn't even use prosthetics to make her appear older.
Jolie was only 29 years old at the time filming began, and Farrell was 28. This raises some important questions – was Alexander's mother a one-year-old baby when she had him? And would it kill Hollywood to cast some older actresses?
Ryan Reynolds – Green Lantern
Even Ryan Reynolds himself admits that the Green Lantern film is pretty laughable. He makes fun of the film, and we're pretty sure he regrets doing it. We're not sure if it was Ryan's performance, the script, or that terrible CGI superhero suit, but that movie did not do well at the box office.
Luckily, Ryan later redeemed himself as a superhero with a brilliant and hilarious performance in Deadpool. Now that was a great casting choice!
Liv Tyler – The Lord of the Rings
The Lord of the Rings trilogy is one of the most epic film adaptations in history, but there's no doubt about the fact that Liv Tyler's character was one of the movie's downsides.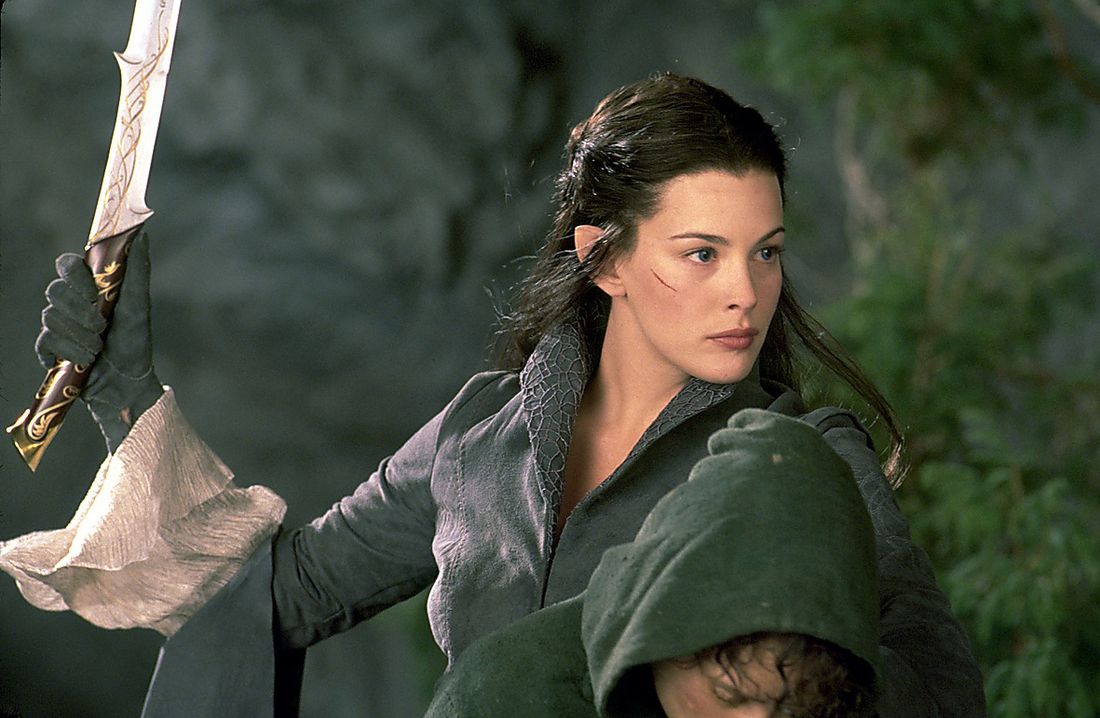 While she's not a bad actress, she was a little out of her element on this one, and when you see her perform alongside great actors like Viggo Mortensen and Hugo Weaving, it shows. It doesn't help that her character, Arwen – a relatively minor character in the books, isn't given much to do other than pine for Aragorn.
Hayden Christensen – Star Wars
Many Star Wars fans would argue that the prequel movies were significantly less great than the original ones – and we tend to agree. One of the things that annoyed fans the most was casting 'The Virgin Suicides' actor Hayden Christensen as arguably the greatest villain in cinema.
Christensen is a good actor, but his performance didn't seem to capture the essence of the complex character. To put it simply, he could pull off the "white swan" that was Anakin Skywalker, but not the "black swan" that was Darth Vader.
Cara Delevingne – Valerian and the City of a Thousand Planets
There's more than just one reason why Luc Besson's film adaptation of Valerian and the City of a Thousand Planets failed so miserably. But one of them is certainly the decision to cast Cara Delevingne as Valerian's partner Laureline.
While Cara does look the part (not to mention she's gorgeous), her performance in it wasn't one of her best – and the stiff dialogue certainly didn't help with that. The two co-stars also majorly lacked chemistry, so their romance just wasn't believable to the viewers.
Sofia Coppola – Godfather III
Some people in Hollywood brought their own children into the business, and at times it turned out pretty great. But when Francis Ford Coppola cast his daughter, Sofia Coppola, as Mary Corleone in The Godfather: Part III – it ruined the movie for many fans.
The first two films were exceptional, and remain classics to this very day, but the third one was messy. Sofia's performance wasn't nearly as good as the other actors', and was incredible stiff.
Brad Pitt – Troy
Brad Pitt was perhaps the biggest Hollywood heartthrob in his younger years, and he starred in some pretty big blockbusters. Although he did show incredible acting abilities in films like Se7en and Fight Club, many believe casting him in Troy was not a good choice.
He did make for some great eye-candy for the viewers, but they weren't buying into his performance as Achilles in Homer's Iliad. So while the other actors were a great fit for their roles, Brad's performance seemed to be the Achilles-heel of the production.
Tom Cruise – Jack Reacher
If you've ever read one of Lee Child's Jack Reacher novels, you'll know Reacher is supposed to be a pretty big guy. In fact, he's described as 6″5 and 250 pounds. The novelist admitted they had a tough time finding the right actor to fit the size of the character, and still be able to pull it off.
So eventually, they decided to go with Tom Cruise, who checked every box except the size. However, fans felt the actor was too far off. Until this day, they're still asking, "Tom Cruise? Really?"
Katie Holmes – Batman Begins
Katie Holmes had been having a hard time shaking off her most iconic role – Joey in Dawson's Creek. When she was cast in Batman Beings to play Bruce Wayne's love interest, Rachel Dawes, many people thought her performance was lacking and "forgettable."
The role was later taken over by Maggie Gyllenhaal in The Dark Knight, and this made much more sense to the fans. But despite the speculations that director Christopher Nolan had Holmes replaced, it was reported that he actually wanted her to come back – and she refused.
Jack Black – King Kong
When you think of Jack Black, chances are you think about School of Rock or Shallow Hal. He's not exactly known for dramatic roles, but director Peter Jackson still took a chance on him with the role of Carl Denham in 2005's King Kong.
While some say he managed to pull off the role of the failed, frustrated filmmaker – many viewers thought Black was completely out of his element. We think he should stick to movies like Jumanji: Welcome to the Jungle, where he did a phenomenal job.
Johnny Depp – The Lone Ranger
According to critics, this casting choice was the perfect combination between lazy acting and whitewashing. There are quite a few people who were offended to see Johnny Depp as Tonto – a Native American character – in The Lone Ranger.
And as if that weren't enough, his performance received bad reviews, with many people claiming the actor simply portrayed a Native American Jack Sparrow, putting zero effort into the role. This movie ended up being a huge box office flop.
Mickey Rooney – Breakfast at Tiffany's
Some movies are just plain classics – but if you rewatch many of them, you might discover certain things that just wouldn't work now. Breakfast at Tiffany's is great, but casting Mickey Rooney to play an Asian character is one big mistake that wouldn't go over well nowadays (thankfully).
Not only is his character extremely stereotypical, but the way he plays it is downright offensive – and pretty painful to watch. Sure, those were different times, but it still hurts our eyes to watch.
Vince Vaughn – Psycho
This remake of the Hitchcock classic was a pretty strange one, and many fans of the original deemed it overall unnecessary. But the weirdest thing about it was the choice to cast Vince Vaughn as Bates. As the character should appear to be frail as a bird, many believed it would have been much better to cast someone else.
Vince Vaughn might not have been as beefed up or as known for his comedy roles back then, but it still seemed like a bad match.
Gary Oldman – Tiptoes
Another incredible offensive casting choice was that of Gary Oldman in the film Tiptoes. Generally, we would say he's a great actor, but this has nothing to do with his acting abilities – he was simply cast to play a dwarf.
Whether he was shuffling on his knees or awkwardly planted inside a couch with strange prosthetic legs sticking out, the whole thing is excruciating to watch. Wouldn't it have been better to just cast a dwarf actor for the part?
Ezra Miller – The Flash
While Ezra Miller is a wonderful dramatic actor (who gave us chills in We Need to Talk About Kevin), as a superhero he falls short. His first real appearance as The Flash in Justice League didn't make a strong impression.
In fact, many of the fans felt he came across as kind of annoying as the beloved superhero, and lacked the charisma required for it. However, he still has a chance to redeem himself in his first solo movie as The Flash.
Ben Affleck – Batman vs. Superman
Speaking of DC, casting Ben Affleck as Batman was such a questionable decision, fans of the franchise are still complaining about it. The announcement he was going to play the role caused a Twitter storm, but the fans were hoping to be proven wrong.
Unfortunately, that didn't happen, and he failed to impress both as Bruce Wayne, and as Batman. The studio has since announced that it isn't going forward with Ben Affleck as Batman any longer, and the role still hasn't been recast.
Jessica Alba – Fantastic Four
Jessica Alba was fresh off of making Dark Angel, the TV show that shot her to stardom, when she was cast to play Sue Storm – The Invisible Woman – in Fantastic Four. However, going blonde and wearing blue contacts didn't really suit her, according to the fans, who would rather see a different actress in the role.
Other than that, she didn't exactly deliver a great performance, but she might not be the only one to blame – she later said the director (Tim Story who directed the sequel) asked her to be less expressive of her emotions and give a flat, but pretty, performance.
Nicolas Cage – Ghost Rider
Ghost Rider is a movie based on Marvel comic books of the same name, and Johnny Blaze is the second character to assume the name of "Ghost Rider". When the movie came out, the fans were baffled as to why Nicolas Cage was cast in the role.
Sure, he was a solid action star, but he was much too old to play Johnny Blaze, and had to wear this ridiculous wig. Unfortunately, his performance did not make up for it, and he ended up ruining the film for a lot of the fans.
Justin Timberlake – Wonder Wheel
Justin Timberlake began his career on The New Mickey Mouse Club and later with the pop band 'NSync. He then moved on to acting, and while he gave solid performances in light-hearted comedies like Friends with Benefits and Bad Teacher – casting him as Mickey in Woody Allen's latest film, Wonder Wheel, wasn't a great choice.
The role of the Coney Island lifeguard who falls in love with both a middle-aged waitress and her step-daughter, wasn't something Timberlake could pull off well enough.
Zooey Deschanel – Hitchhiker's Guide to the Galaxy
If there's one actress who's indisputably polarizing, it has to be Zooey Deschanel. You either love her, or you hate her, but probably nowhere in between. Hitchhiker's Guide to the Galaxy had a whole fandom waiting to see it adapted into a film, and many of them were extremely disappointed to see Zooey Deschanel cast as Trillian.
What some consider to be quirky charm, others define as a lack of acting skills, but one thing's for certain – her performance wasn't one of the best in the movie.
John Wayne – The Conqueror
Back in the '50s, casting Caucasian actors to play characters of different ethnicities was unfortunately very common. Some casting directors just didn't mind how inappropriate it is, and went for actors they wanted.
Casting John Wayne as Genghis Khan in the film The Conqueror, however, was not only incredibly offensive, but also pretty ridiculous. Apparently, after reading the screenplay, Wayne decided he must play this role, and it was given to him. The movie not only flopped, but made it to the '100 worst movies of all time' list.
Micheal Gambon – Harry Potter
Richard Harris was the first actor to be cast as Dumbledore, the beloved Headmaster of Hogwarts, in the Harry Potter franchise. Sadly, the actor passed away after the second installment was filmed, and so the role had to be recast. Micheal Gambon took on the role, but fans of the franchise didn't love how he chose to portray him.
Instead of being forever calm and collected, he made him seem aggressive. Fans could never forget that scene from Goblet of Fire, where he grabs Harry and asks him hysterically if he put his name in the Goblet of Fire – when he should've been cool as a cucumber.
Russell Crowe – Les Miserables
Russell Crowe is not a bad actor, and he's actually had some pretty great roles in the course of his career. But whoever decided to cast him in a musical film – one with a great amount of singing in it – probably ended up beating themselves up for it.
Russell is many things, but a good singer is not one of them, not by a long shot. The actor cannot sing to save his life, and critics have thoroughly repeated that ever since the film came out.
Jake Gyllenhaal – Prince of Persia: The Sands of Time
When Jake Gyllenhaal was asked why he took on the lead role in Prince of Persia: The Sands of Time, he said it was because he judged the character itself, and wanted to play it. We don't blame the actor for taking on the role of the Persian prince, as seen in the popular video game.
But at the same time, it's hard not to wonder – why not cast an actor who's of Middle Eastern descent instead? Wouldn't it be more appropriate for the character?
Will Smith – Aladdin
Even before it hit the big screen, Aladdin was already making major headlines. Unfortunately, one of these headlines was about getting pretty bad backlash from Disney fans, who were upset about casting Will Smith as the Genie.
The decision to cast him made fans so upset, no one could talk about the actual movie when it came out. One thing's for sure – it's a tragedy that Robin Williams is no longer with us, and cannot come back and reprise the role he's made so iconic.
Sean Connery – Highlander
If there's one thing Sean Connery is known for, is his signature Scottish accent. That accent goes everywhere he does, even if the role isn't quite meant to be Scottish. So forgive us for saying it might not have been the best choice to cast him in Highlander as Ramirez.
Of all of the characters in the film, they had to cast him as the only one who isn't Scottish – but an Egyptian pretending to be Spanish? And as you might have guessed, his accent was still Scottish.
George Clooney – Batman & Robin
George Clooney is one of the most talented and esteemed actors in the world, and it's not for nothing. But there's one performance we just can't get out of our heads – him as Batman in Batman & Robin. As great as he is, he's not exactly superhero material.
Granted, it wasn't meant to be a serious type of superhero movie, not like The Dark Knight, but Clooney's performance wasn't one of his best. In fact, the actor admitted he "always apologizes for Batman & Robin."
Adam Driver – Star Wars
We came to know the unique and splendid actor that is Adam Driver in the HBO show Girls, where he played Lena Dunham's on-and-off love interest. One of the actor's traits is the fact that his acting style is so eccentric, so he's a perfect fit to films like Paterson, Logan Lucky, and BlacKkKlansman.
But even after seeing him take on the role of Kylo Ren in the latest Star Wars movies, we're still not convinced he's right for this type of flick.
Robert Pattinson – Little Ashes
Before he was brooding vampire Edward Cullen in Twilight, Robert Pattinson got up to some pretty serious roles. One of these roles was the famous Spanish artist Salvador Dalí in the film Little Ashes, alongside Javier Beltrán.
Pattinson's depiction of Dalí is exactly what you would expect it to be. And while it had its moments, his performance was falling short of his fellow cast mates and overall pretty embarrassing. We can't really say his career suffered because of it, though, as he was then cast in one of the most popular franchises to ever exist.
Lindsay Lohan – 'Liz & Dick'
Lindsay Lohan started off as the sweet little girl(s) in The Parent Trap, where she rose to stardom. After that, she starred in a few teen comedies like Freaky Friday and Mean Girls, and she did a pretty good job.
Instead of sticking to what she was most famous for (aside from excessive partying), she ventured out into… a biopic, of all things. She played the role of Elizabeth Taylor in the TV film 'Liz & Dick', and many reviews said she did the late, iconic actress wrong with her performance.
Orlando Bloom – Kingdom of Heaven
Many critics said Ridley Scott'€™s Kingdom Of Heaven was coming close to perfection. The supporting cast (Eva Green, Edward Norton) gave wonderful performances, and the film had a compelling plot and stunning visuals.
However, it did not live up to its potential, mainly because of the decision to cast Orlando Bloom as the lead. Bloom was deemed far too young for the role of the seasoned warrior, and came across more like a teenager. It's also rumored that his eyes needed to be enhanced using CGI to make them more lively.
James Franco – Oz the Great and Powerful
When you picture Oz, the iconic charlatan of the classic The Wizard of Oz, who's the actor whose image pops into your head? It's most likely not that of James Franco, we're pretty sure about that.
The young actor has immense acting capabilities, as he well demonstrated on 127 Hours, but he wasn't a great fit to play Oz. It just comes across like a hipster is attempting to play Oz ironically, because he's simply not theatrical enough for the role. What's next, Willy Wonka?
Dakota Johnson – Fifty Shades of Grey
Fifty Shades of Grey started out as Twilight fan-fiction, so it's no surprise they decided to cast Dakota Johnson as Bella – err, sorry, we mean Anastasia. Dakota isn't much different than Kristen Stewart when it comes to acting skills, and some have claimed she's even worse.
It doesn't help that Anastasia's mannerisms are the same as Bella's (including that world famous lip-bite). But other than her lack of stage-presence, her chemistry with co-star Jamie Dornan is pretty much non-existent. It's rumored that they actually dislike each other off-screen, which would explain a lot.
Kristen Stewart – Snow White and the Huntsman
While she's received acclaim for her performance in more recent films, many people criticize Kristen Stewart for her acting skills – as they often seem to be limited to one particularly pained facial expression.
So while Charlize Theron and Chris Hemsworth were praised for their performances in Snow White and the Huntsman, Kristen got pretty bad reviews for hers. One critic said her Snow White "pouts her lips, bats her bedroom eyes, and scarcely seems to have more on her mind than who might take her to the senior prom."
Natalie Portman – Thor: Love and Thunder
When people imagine Thor, they think of a powerful, muscular and very male superhero. Sort of what Chris Hemsworth looks like, the actor who has played the character up until now. So fans of the franchise were pretty surprised by the recent announcement at Comic Con, that Natalie Portman will portray Thor in the upcoming Thor: Love And Thunder.
The movie is due to premiere in 2021, and safe to say it's a pretty bold move by the producers. Time will tell if it will pay off, or become yet another failure for the franchise.
Denise Richards – The World Is Not Enough
James Bond movies have been known to cast beautiful actresses as Bond girls. And while they have ridiculous names, they usually have some substance underneath the surface.
Denise Richards, who's usually seen in movies of the less serious kind (Blond and Blonder comes to mind), perhaps wasn't the best fit to play a nuclear physicist in The World Is Not Enough. Despite having the looks of a Bond girl, audiences just didn't find her performance believable.
Emma Stone – Aloha
Don't get us wrong, we love Emma Stone. She's a wonderful actress with a mean singing voice, but last time we checked – she wasn't Asian, nor a Pacific Islander. So it was surprising when she was cast in the rom-com Aloha to play Captain Allison Ng, a pilot who's of Hawaiian and Chinese descent.
Stone later realized her mistake and apologized, saying she realized how prevalent this problem is in Hollywood. But the movie still bombed at the box office, and was pretty much slayed by critics.
Jennifer Garner – Daredevil / Elektra
At first glance, it seems like casting Jennifer Garner as the comic book-based Elektra was a good choice. She proved she can kick some serious behind in the TV show Alias, so why not Elektra?
But whoever read the comic books knows this character had to be portrayed a certain way – one that Garner didn't deliver. Not only is she driven by revenge, she's also dark and cynical. But Garner just seemed too nice for this role.
January Jones – X-Men: First Class
On paper, January Jones seemed like the perfect choice to play Emma Frost in the comic based X-Men: First Class. The actress also showed off her acting chops in the series Mad Men, where she played Betty Draper.
And although she looked stunning in this part, her performance was deemed pretty flat by the fans, who weren't feeling it at all. While Emma Frost is supposed to be assertive and morally questionable, January makes her come across as uninterested and distant.
Scarlett Johansson – Ghost in the Shell
We love seeing Scarlett Johansson on screen, as she's great in pretty much everything she does. But people were pretty upset when she was cast to play a prominent role meant for an Asian actor in Ghost in the Shell.
Ghost in the Shell manga fans actually started a petition to recast the role, saying it was a bad decision to cast Johansson while many actors of different ethnicities are struggling to find parts. But they stuck with Johansson, and the movie ended up as a box office flop.
Chloë Grace Moretz – Carrie
We're not really sure why we needed a Carrie remake in our lives. And since the film didn't see much success in the box office, nor critical acclaim, we guess most people felt the same.
But if you're already making a Carrie remake, you might as well cast an actress who looks the part. Carrie is an awkward, painfully shy teenager, who gets bullied because she's a misfit. Chloë Grace Moretz looks more like a popular cheerleader who would bully girls like Carrie. She would have been a better cast for Mean Girls, if you ask us.
Halle Berry – Catwoman
Most people will agree that Catwoman is one of the worst superhero movies of all time. We're not sure casting someone else instead of Oscar-winner Halle Berry would've saved this catastrophic (get it?) film.
In fact, we're fairly sure it wouldn't have. But Halle's performance lacked the seductive nature Catwoman needed to have – one that Michelle Pfeiffer nailed in Batman Returns. Instead, it ended up being over the top. Still, the actress said she had no regrets taking on the role, saying, "I got a s***load of money that changed my life."
Britney Spears – Crossroads
Britney is a great pop singer, and we've even seen her do some decent comedic acting over the years, in guest appearances on iconic shows such as Will&Grace. But, giving her the lead in a sentimental, romantic drama was a pretty obvious mistake.
Crossroads has a 3.5 rating on IMDb, which is almost impressive (but not in a good way). The low rating is of course due to the movie as a whole being bad, but Britney Spears didn't help matters.
Linda Fiorentino – Dogma
Dogma is iconic, there is no doubt about it. And its filled with a star-studded cast and memorable characters. But, we can't help but feel like leading lady Linda Fiorentino is the weak link.
Her acting feels stiff and forced, especially compared to the magnetic performances of Ben Affleck and Matt Damon, and the hilarity of Jay, Silent Bob, and all the other smaller supporting characters. We know Linda is a talented actress, but this just wasn't a good fit for her.
Madonna – Shanghai Surprise
Madonna has tried her hands at acting a few too many times for us to believe the issue is just unfortunate casting mistakes. The woman just can't act. Which is fine – with her music career, it's not like she needs it!
Many would argue her performance in the 1986 adventure comedy Shanghai Surprise is her absolute worst, which might partly be because she acted opposite her then boyfriend Sean Penn. Considering he is one of the greatest actors in the industry, Madonna's lack of acting talent became even more obvious.
Vinnie Jones – X-Men: The Last Stand
We're not gonna lie, looks wise Vinnie Jones is pretty spot on here. He looks massive, muscular, and terrifying. But the acting is just so cringey and over the top. Which is unfortunate, because it's not like the man can't act – when given some more interesting material to work with.
He excels especially in gritty hilarious British movies, such as Lock, Stock And Two Smoking Barrels and Snatch. But in X-Men: The Last Stand, his performance left much to be desired.
Ronda Rousey – Furious 7
Ronda Rousey is a living legend thanks to her impressive career in the world of American Professional Wrestling. But she is definitely no actress, that's for sure…
We get why she was cast in Furious 7, the Furious franchise and cool, tough wrestler ladies seems like a fitting match. Unfortunately, Ronda's performance was probably the worst out of the entire cast. That's what tends to happen when directors choose random famous people from other fields than acting.
Ted Danson – Saving Private Ryan
Saving Private Ryan is a classic, stellar movie with stellar acting and on spot casting choices, for the most part. But of course there's always a few exceptions. Or one in this case.
Ted Danson is a great comedic actor – but casting him in a serious war movie? That did not make much sense. Captain Fred Hamill was supposed to be a tough soldier, and we just didn't really buy it when played by Ted Danson.
Andrew Garfield – The Amazing Spider-Man
Let's be honest – Hollywood needs to cool it with the Spiderman movies. We don' need an entire new franchise with a new Spiderman every five years, we really don't. And the poor guys who came after Tobey Maguire barely stood a chance. Especially not Andrew Garfield.
The guy was just never a good fit, and lasted only for two movies. Just three years after the second, The Amazing Spider-Man 2, he was replaced by Tom Holland (who has so far fared much better and still holds the title as current Spidey).
Taylor Lautner – Abduction
Taylor Lautner's career has done somewhat of a face plant since Twilight, and we don't hear much about him these days, after years of flopped movies. Abduction is one of them.
The movie could have been great, since the premise is intriguing; a young man finding a picture of himself on a missing persons website, and trying to solve the mystery of his own life. But Taylor's performance made it feel like another generic Hollywood blockbuster.
Ashton Kutcher – Jobs
There's no less than 14 Steve Jobs movies and documentaries, all made within the past 15 years. If you think that sounds like too many – that's because it is. We really didn't need that many, but here we are. And some of them are really good, making the less than perfect ones stand out. Such as Jobs from 2013.
Beloved former goofy guy Ashton Jobs just didn't quite measure up when portraying this inspiring business magnate, especially not compared to Jesse Eisenberg and Michael Fassbender, who both played Jobs in subsequent movies.
Edward Furlong – The Crow: Wicked Prayer
Where do we even start with this one? It's really a shame to see where Edward Furlong's once promising career has ended up. He started out as a promising child actor, and impressed us all in his breakthrough role in Terminator, and a few years later in American History X and Detroit Rock City.
But due to sever substance abuse, Edward seems to have lost himself, and in the 2005 The Crow: Wicked Prayer his performance (and the entire script) is just a hot mess.